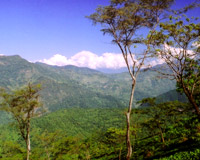 Location:
Himachal Pradesh
Altitude:
Around 2,250 m
Summer Temperature:
28°C to 8°C
Winter Temperature:
10°C to 0°C
Best Time to Visit:
May to July and September to November
Chail is one of the most picturesque hill stations in the state of Himachal Pradesh. Situated at an altitude of approximately 2,250 m, the hill station is a sheer delight during the summer months. The serene hill town boasts of balmy climate and attracts nature lovers throughout the year. The summers here are extremely pleasant while the monsoons have their own appeal. The winters are enormously chilly, providing you ample opportunities to enjoy the warmth of bonfire, sipping a hot drink, sitting amidst the magnificent scenic surroundings. To know more about the weather and climatic conditions of Chail, read on.
Summer
The summer season begins from the month of April and lasts up to the month of June. The summer months here do not resemble those experienced in other parts of North India. It is one of the most pleasurable times of the year as the temperature hardly crosses 28°C. Thus, it is a perfect resort for the natives of the neighboring states, who are sure to get respite from the soaring temperature. This is indeed the best time to visit Chail and bask in the sun while others are finding shelter.
Monsoon
The monsoon season arrives in the town of Chail in the month of June end and lasts till August. The monsoon months revitalize the natural splendor of the place. Owing to heavy forest cover, Chail experiences a good amount of rainfall during the monsoon season. Though the misty weather during monsoon has its own charisma, it is not advised to visit the hill station during this time, as the hilly town experiences landslides, which can prove to be hazardous.
Winter
The winter months are extremely chilly, with the temperature dipping quite low. The already hushed hill station becomes even more deserted as every one retires to their houses staying close by the fire place. This makes it quite morose and is therefore not a good time for tourism. However, those who wish to experience the true spirit of the hill station should bring along heavy woolens during this time.