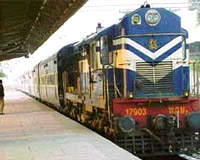 Chail is a secluded hill station in the state of Himachal Pradesh. The tranquil hill station is devoid of much activity and thus, traveling here is best suited for those, who wish to relax and unwind in the lap of Mother Nature. In effect, hundreds of tourists visit this dainty town in search of peach, away from the daily life of cities in India. Thus, Chail holds immense tourism potential, which is evident from the fact that visitors lose themselves completely in its scenic charm. So, if you are feeling inspired and wish to explore the uncharted bounds of Chail, given below is some vital information regarding how to reach here.
By Air
The nearest airport to Chail is at Shimla. However, this airport is not served by all the major airlines and only a few are operational. The second nearest airport from the hill station is Chandigarh. Located at a distance of 120 km, this airport operates a number of flights to various parts of the country. For international tourists, the nearest international airport to Chail is at New Delhi. Located in the capital city of India, the airport lies at a distance of 382 kms.
By Rail
The nearest railway station from Chail is at Kalka. Located at a distance of 86 km, this railway station connects the town with various other Indian cities. From Kalka, a toy train also plies up to Shimla, which is one of the major attractions for all the visitors coming to the state. After reaching Shimla, you can easily reach Chail by road.
By Road
Chail is well connected to all the parts of the country via a good network of roads. The easiest way of traveling to Chail is by road as it gives you ample opportunity to savor the beauty of the landscape. Through well maintained roads, Chail can be easily reached from places like Amritsar, Chandigarh, Delhi and Manali. You can hire taxis, cars or take buses from Shimla to visit the beautiful hill station of Chail.