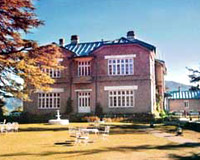 The tiny hill station of Chail offers an array of tourist attractions for the visitors. Though it is the ideal retreat for quiet souls, the hill station makes sure you do not feel gloomy in the absence of activity. The places of interest in and around Chail will ensure you enjoy your trip to the fullest. Besides its natural beauty, what remains undiscovered is the interesting tourist locales perched in the whispering woods of the place. To know more about the places to see in Chail, read on.
Chail Sanctuary
Situated in the vicinity of the town is Chail Sanctuary, which is home to lush Deodar and Oak forests. The sanctuary was established in 1976 and houses animals like Sambar, Goral, Himalayan Black Bear, Red Deer, Barking Deer, Indian Hare, Common Langur and Leopard. One can also witness exquisite species such as Rhesus Macaque, Himalayan Yellow Throated Marten, Indian Porcupine, Common Giant and Kashmiri Flying Squirrel. You can trek from Chail to either Gaura or Jhajja to get a glimpse of a number of animals.
Chail Palace
The Maharaja's Palace is situated on the Rajgarh Hill. As the name suggests, it was the palace of the maharaja, which was built by him as his summer retreat. Extending over an astounding area, the palace offers breathtaking views of the sprawling surroundings. The palace was taken over by the Himachal Tourism in the year 1972 and transformed into a heritage hotel. Tourists are since then allowed to stay in the cottages or huts of the palace.
Sidh Baba ka Mandir
Sidh Baba ka Mandir is a popular tourist spot in Chail. It said that the place, where the mandir stands was originally chosen by Maharaja Bhupinder Singh to construct his palace. However, the maharaja had a vision or dream in which a saint appeared and told him that the place was meant for his meditation. After the vision, the king shifted his palace venue and constructed a temple here.
Cricket Ground
The Cricket Ground is another renowned tourist attraction in Chail as it is acclaimed to be the highest in the world. Built in the year 1893, it is located at an altitude of 2,144 m. The ground is surrounded by beautiful and soaring deodar trees. Apart from cricket, the ground is also used for playing polo.