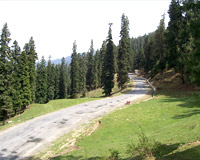 Location:
Himachal Pradesh
Climate:
Moderately Temperate
Best Time to Visit:
May to July and September to November
Main Attractions:
Chail Palace, Maharaja's Palace, Sidh Baba Ka Mandir, Cricket Ground, Chail Sanctuary, etc.
Chail is a small hill station perched in the hilly state of Himachal Pradesh. The hill station is quite popular amongst those, who are in search of peace and quiet. In comparison with other major hill stations of India, Chail is quite low profile. It is a small town, which is blessed by bounteous natural reserves and rich heritage. A budding travel and tourism destination in the state, Chail has a significant historical past. Nestled amidst plush natural settings, it is a must visit for all the nature lovers.
Chail was once the summer capital of Patiala, which is world renowned for its highest cricket pitch. The origin of the place dates back to 1891, when Maharaja Bhupinder Singh of Patiala was banned from entering into the summer capital of the Raj Shimla, by Lord Kitchener. This infuriated the king and he vowed to find an even better and beautiful capital for himself. This gave birth to Chail, which was then a small hamlet in the vicinity of Shimla. Owing to its natural splendor, it was even referred as a "Slice of Heaven".
The sprawling landscape dotted by pine and deodar trees along with an uninterrupted view of the snow capped Himalayan range is simply awe-inspiring. Thus, the idea of making a separate capital was fulfilled by the Maharaja, as he established a small town and a magnificent palace here, according to his requirements as well as wishes. Currently, the hill station amuses the visitors with its tourist attractions, pleasant weather and stirring solitude. It is one of the ideal destinations to spend a relaxing and quiet vacation at.